COMING SOON
Regular price
Sale price
$24.94
Unit price
per
Sale
Sold out
Ice Grip Gel Ice Pack Wrap for Ankle and Foot: Designed specifically for faster recovery, soothing soreness, relieving injuries, and addressing sprains, the Ice Grip gel ice pack wrap offers targeted cold therapy to alleviate discomfort. Its flexible composition molds perfectly to your ankle and foot, effectively easing arthritis, ankle sprains, twists, and foot injuries, promoting healing and relief.
Ice Grip Ankle and Foot Cold Therapy for Swift Recovery: Experience the convenience of hands-free ice and compression therapy with the Ice Grip gel wrap. By reducing pain and swelling, this therapy aids in a quicker recovery, enabling you to get back on your feet faster. It is ideal for various ankle and foot sports injuries, sprains, strains, arthritis, and post-surgery rehabilitation, providing comprehensive care and support.
Ice Grip Ankle and Foot Gel Ice Pack with Comprehensive Coverage: The Ice Grip gel ice pack ensures complete coverage for your ankle and foot, delivering a 360° cold therapy experience. Whether it's plantar fasciitis, Achilles tendonitis, post-surgery recovery, sprains, or swelling, this versatile pack provides both cold and hot therapies, allowing you to switch as needed. Enhance your healing process and accelerate recovery after surgical procedures.
Easy and Comfortable to Use: The Ice Grip ankle and foot gel ice pack wrap is as simple to use as wearing socks. Designed with a sleek and modern aesthetic that allows you to customize the level of support and pressure. Rest freely while enjoying the therapeutic cold therapy, providing relief for ankle and foot discomfort and ensuring a snug fit for all-day comfort. Experience the ultimate blend of functionality and style.
Reusable Gel Ice Wrap for Long-Lasting Cold Therapy: With the Ice Grip gel ice pack, you can rely on reusable and durable cold therapy for instant pain relief. Its innovative gel formula maintains a long-lasting cold temperature without the risk of frostbite. The stretchable, one-size-fits-all design ensures a comfortable and customized fit, while the soft Lycra fabric adds to the overall comfort and effectiveness of the pack.
Product Features

RELIEF FOR PAINFUL CONDITIONS:
The MDUB Crosstrap Achilles Strap provides support to men and women for ankle pain from pulled or torn muscles, tendonitis, or Achilles tendinopathy. It helps with strains, sprains, and weak or injured calf muscles, and helps manage symptoms of shin splints, (medial tibial stress syndrome), during both athletic and occupational activities.

THE PAIN REDUCING STRAP:
Providing better muscle pain relief than a full ankle support, an ankle compression sleeve, or compression socks, the MDUB Crosstrap is a pain reducing pressure strap that covers only what it needs to. Reducing suffering from ankle pain, exercise, or walks can often seem like an overwhelming task. This genius Achilles strap provides a way to do exercise without worry!

PATENTED CROSSTRAP DESIGN:
Our patented Crosstrap design creates 20% more isolated pressure on the intersection and then dilutes the pressure on the sides and back of your ankle. This unique Crosstrap technology means more localized pressure to the problem area. A slit on the side of the strap allows for more adjustability, letting you put pressure exactly where your body needs it.

PROFESSIONAL GRADE MATERIAL:
Unlike other ankle straps on the market which have plastic or rubber on the side that can cause irritation and injury, we don't use plastic or rubber parts that often make injuries worse. In fact, our light and soft Crosstrap actually helps to soften the impact because they are made of high-quality neoprene and nylon. This also gives it longer life and more durability!

USE FOR VARIOUS INJURIES:
Part of what makes up the unique design of the MDUB Crosstrap is that it can also be used for various injuries. Depending on your size and need, this strap can be used to support Patellar Tendonitis (jumper's knee), Iliotibial Band Syndrome (ITBS), and shin splints. Make this amazing product part of your essential fitness accessories!
Care&Caution

Care:
Hand wash in cold water, using a mild detergent. Rinse thoroughly and let air dry. Do not bleach or use fabric softener.

Caution:
This product contains natural rubber latex which may cause allergic reactions. Built with a neoprene blend which may cause skin irritations, if rash develops or pain persists discontinue use and consult a physician.
Shipping & Returns

Shipping:
Our team will ship your order within 3 business days. The time it takes to receive your order depends on the shipping method chosen at checkout. 

Return Poilicy:
Our policy lasts 30 days. If 30 days have gone by since your purchase, unfortunately we can't offer you a refund or exchange.

To be eligible for a return, your item must be unused and in the same condition that you received it. It must also be in the original packaging.
View full details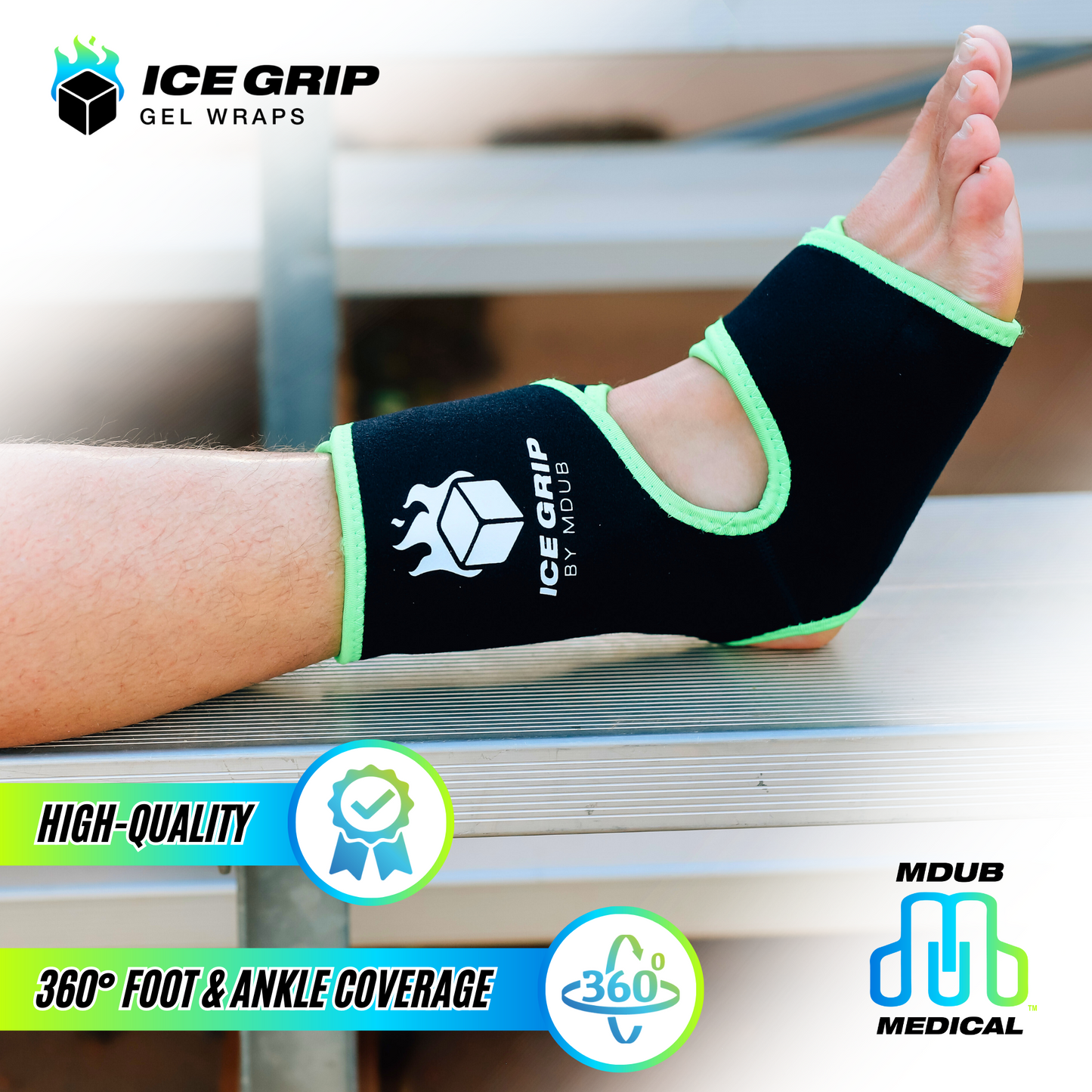 Keep Doing The Active Things You Enjoy!
The patented Crosstrap design creates 20% more isolated pressure on the intersection and then dilutes the pressure on the sides and back of your ankle.